A Merry Mayhem Charity Event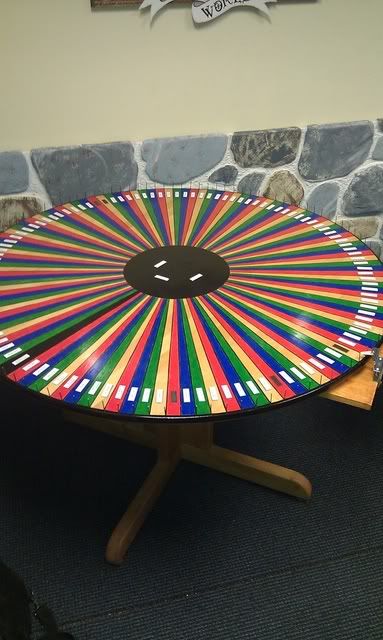 Table of Casters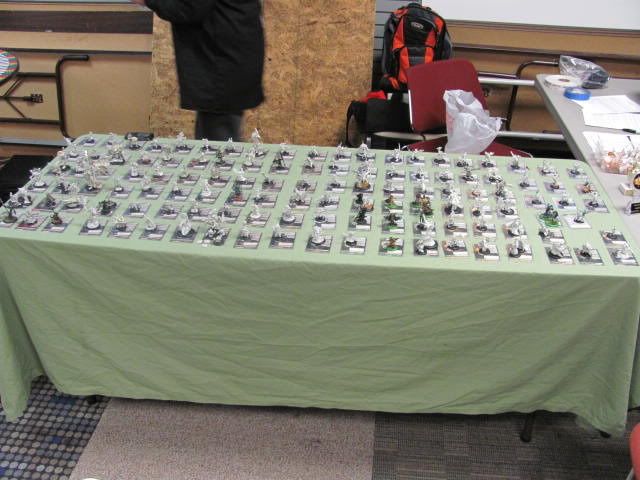 Location – Misty Mountain Games
* 4672 Cottage Grove Rd
* Madison, WI 53716
* 608-441-0312
Sign In – 10:00
Start time 11:00
Cost – $15 this includes food for the day. (We will be grilling food)
The day will consist of 4 rounds of warmachine/Hordes. This is a casual event.
All Warcasters and Warlocks current to the game will be represented by their model with their current mk2 card and be provided
Rules –
List creation– You will create a 50 point list +5 warcaster/warlock Battlegroup points (without a warcaster/warlock) (10 pt min battlegroup, 40 point army) of the Faction/Contract (4 Star, Magnus Agenda, Searforge, Blindwater etc….) of your choosing. Theme Lists are not allowed.
Your BOSS!! – Every game, your Boss will be chosen by spinning the Wheel of Casters (There are 100+ Casters in the game), That is the caster you will play with for that game (you cannot obtain a caster from your own faction, IE if you are Cygnar, you spin a Cygnar caster, you will have to respin until you do not get a Cygnar caster.)
For all purposes that caster becomes a member of your faction. Depending on your faction of your army, your casters spells be adjusted to reflect the new faction, mentions of Warjacks become warbeasts, vice versa. Any other specific named abilities will be lost in the translation, unless those models exist in your army. (Such As ESorscha's Elite Cadre and Desperate Pace.)
If you are playing a Warmachine army, and you get a warlock, that warlock becomes a warcaster in all meanings. Fury Stat will become Focus, Overboost armor is now possible. The reverse holds true as well, If you are playing a Hordes Army, and you get a warcaster, that warcaster becomes a Warlock in all meanings. Focus becomes Fury, and will be able to transfer damage.
Models such as Epic Kaya and Old Witch, the accompanying models (Laris and Scrapjack) become a Warjack or Warbeast, determined by the Faction they play for. Damage grids remain the same, as with the abilities.
Games – Pairings will be entirely random, unless a challenge is called. There will be no intercity challenges, unless approved by the TO. Challenges between players can be done between rounds. The person being challenged gets to choose the board (Scenario: See rules below) they will play at. Challenges will be accepted only before the Wheel is spun.
Time Limit – Each round will have a time limit to keep things on time. Normal timers will be used unless both parties agree to not use a timer.
Scenarios – Every Round will use SR2011 Scenario – Overrun.
In addition there will be a limited Number of boards setup with specific terrain that players can choose to play with. For example 2 boards will be setup with Train tracks, and if both players agree, they can play their game with the addition of trains moving across the table
We will have specific scenario rules listed for each of this special tables. We will also post them in this thread, and I will update the main post. These are "optional" but fun choices if players wish to use them.
Charity Event – (All day events occuring, including warhammer fantasy tournament)
This is a Merry Mayhem Charity Event (Toys for Tots) – Complete details on Merry Mayhem Found HERE
There will be Raffle occuring. People can donate toys for raffle tickets or donate cash.
How does it work? Bring a toy or pay $10 for 3 raffle tickets or $4 for 1 raffle ticket. If the toy is not deemed worth $10 dollars (aka, a hot wheels car) an equivalent value in raffle tickets will be awarded based on judges discretion. You do not need to be a participant of the tournaments at Merry Mayhem to participate, however, you must be present to win.
Prizes for raffle will be both Warmachine/hordes prizes as well as Warhammer Fantasy.
In addition – People will be able to donate money to help their odds on the Wheel
Before every round and before spinning the Wheel people can buy the following.
$5 – 1 free spin token
$10 -Special Spin on Alternate Timeline caster table
[b]Prize Support -[/b]
* Awards given for various achievements during the Event. First Caster Kill, First boosted Critical miss, etc.
* Free Food
*Wheel will have spots for door prizes on them.
*Raffle Prizes
These prizes will include (but not limited to)
*Signed copies from PP for Hordes Domination book as well as Hordes Primal MKII
*$ at least $250 Worth of PP models will included in raffle/door prizes
This event will be capped at 32players (we are sharing space) If more space opens up I will take people from waiting list first.
Sign-up on the Privateer Press forums – http://privateerpressforums.com/forumdisplay.php?63-Official-Demos-and-Events